Disinfectants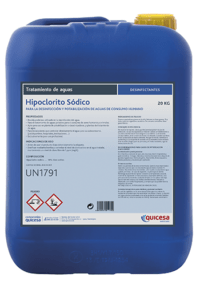 Sodium hypochlorite, disinfection and purification
Sodium hypochlorite stabilized in active chlorine for the disinfection and purification of water for human and animal consumption.
Powerful biocide used in water disinfection.
Product suitable for use in the treatment of water intended for human consumption in accordance with Order SAS 1915/2009, of July 8, on substances for the treatment of water intended for the production of water for human consumption. It complies with the UNE-EN 899 (2009) standard.
Exclusively for professional use.
12 Kg         ARV0113
20 Kg        ARV0332
Cisterna    ARV0240
There are no reviews yet. Be the first one to write one.
0 out of 5 stars (based on 0 reviews)