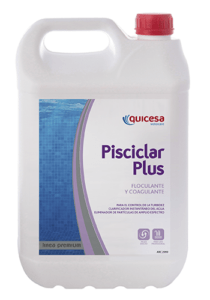 Pisciclar Plus,
Flocculant-Coagulant
Suitable to eliminate the turbidity and suspended matter of the pool.
It contains an innovative polymer with double action: it helps reduce surface fat and eliminates particles in suspension.
Improves filter performance by obtaining more compact and heavy flocs.
Instant clarifier, improves water quality by helping to control the consumption of disinfectants.
Effective in a wide range of pH and temperatures, (satisfactory behavior at low temperatures). Lower metal content in the treated water, eliminates metal ions, such as ferric or manganese, dispersed in the water.
Excellent result product in pools with water very murky.
6 Kg                      ARV0852
25 Kg                    ARV0853
There are no reviews yet. Be the first one to write one.
0 out of 5 stars (based on 0 reviews)