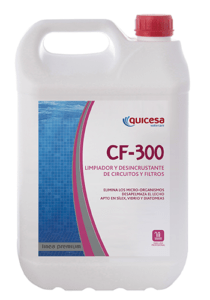 CF-300, Cleaner and descaling of circuits and filters

Effective cleaning of adhesions in the circuits and filters of the purification system.
Its use optimizes the debugging process and guarantees its correct operation.
Eliminates microorganisms, desampamaza and clean the bed. Suitable for use in flint, glass and diatomaceous filters.
Ideal complement for the preparation of the installation in the opening.
5 Kg        ARV0148
25 Kg      ARV0167
There are no reviews yet. Be the first one to write one.
0 out of 5 stars (based on 0 reviews)