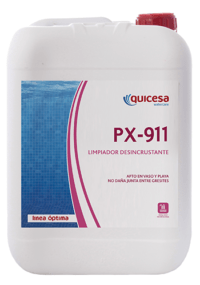 PX-911, descaling cleaner



Descaling cleaner suitable for glass and beach.
Ideal liquid cleaner for eliminating scale on the surfaces of swimming pools.
It acts efficiently without damaging the joint between tiles and without affecting paint or tiles.
Cleaning and disinfection of glass and beach without scraping or scrubbing.
10 Kg       ARV0122
25 Kg       ARV0165
There are no reviews yet. Be the first one to write one.
0 out of 5 stars (based on 0 reviews)